2021 Lincoln Aviator Reserve vs. 2021 Volvo XC90 T5 AWD Momentum

| | | |
| --- | --- | --- |
| 2021 Lincoln Aviator |   | 2021 Volvo XC90 |
| Twin-Turbocharged 3.0L V6 | Engine | 2.0L Four-Cylinder |
| 415 @ 3,000 | Torque | 258 @ 1,500 |
| 10-Speed SelectShift Auto | Transmission | Eight-Speed Geartronic Auto |
| RWD/AWD | Drive Type | AWD |
| 400 @ 5,500 | Horsepower | 250 @ 5,500 |
| 21/20 MPG (RWD/AWD) | Combined MPG | 23 MPG |
| Revel Ultima® 3D Audio System w/ 28 Speakers | Audio | High Performance Audio System w/ 10 Speakers |


2021 Lincoln Aviator Reserve vs. 2021 BMW X7 xDrive40i

| | | |
| --- | --- | --- |
| 2021 Lincoln Aviator |   | 2021 BMW X7 |
| Twin-Turbocharged 3.0L V6 | Engine | 3.0L TwinPower Turbo Inline Six-Cylinder |
| 415 @ 3,000 | Torque | 332 @ 1,500-5,200 |
| 10-Speed SelectShift Auto | Transmission | Eight-Speed Sport Automatic |
| RWD/AWD | Drive Type | AWD |
| 400 @ 5,500 | Horsepower | 335 @ 5,500-6,500 |
| 21/20 MPG (RWD/AWD) | Combined MPG | 21 MPG |
| Revel Ultima® 3D Audio System w/ 28 Speakers | Audio     | HiFi Sound System w/ 10 Speakers |


2021 Lincoln Aviator Reserve vs. 2021 Cadillac XT6 Premium Luxury

2021 Lincoln Aviator
 
2021 Cadillac XT6
Twin-Turbocharged 3.0L V6
Engine
3.6L V-6
415 @ 3,000
Torque
271 @ 5,000
10-Speed SelectShift Auto
Transmission
9-Speed Automatic
RWD/AWD
Drive Type
AWD
400 @ 5,500
Horsepower
310 @ 6,600
21/20 MPG (RWD/AWD)
Combined MPG
21 MPG
Revel Ultima® 3D Audio System
w/ 28 Speakers
Audio    
Bose Premium 8-Speaker Audio


2021 Lincoln Aviator Reserve vs. 2021 Lexus GX460

2021 Lincoln Aviator
 
2021 Lexus GX
Twin-Turbocharged 3.0L V6
Engine
4.6L V-8
415 @ 3,000
Torque
329 @ 3,500
10-Speed SelectShift Auto
Transmission
6-Speed Automatic
RWD/AWD
Drive Type
4WD
400 @ 5,500
Horsepower
301 @ 5,500
21/20 MPG (RWD/AWD)
Combined MPG
16 MPG
Revel Ultima® 3D Audio System
w/ 28 Speakers
Audio    
Lexus Premium Audio System
w/ 6 Speakers


SPIRITED IN ITS RESPONSE
The Lincoln Aviator Reserve offers an exciting powertrain that combines power and poise for a smooth and thrilling journey. The standard Twin-Turbocharged 3.0L V6 engine sets the pace for all Aviator models by generating 400 horsepower and 415 lb.-ft. of torque.
LINCOLN AVIATOR CABIN TRANSFORMED INTO CONCERT HALL WITH 28-SPEAKER IMMERSIVE SOUND SYSTEM
The new Lincoln Aviator features an audio system worthy of its show-stopping looks - one that allows clients to relax, unwind, and truly immerse themselves in a sanctuary of sound.
Having made its debut in Lincoln's luxurious three-row SUV, the Revel Ultima 3D sound system offers drivers and passengers a choice between three listening modes - stereo, audience and on-stage. But it takes the listening experience to a whole new dimension by adding an immersion control slider in the center stack and four sets of dual-height speakers in the Aviator's headliner.
The slider allows listeners to personalize the audio experience by determining how much they want the music to envelop them in a cabin featuring 28 speakers. The addition of the height speakers allows for a 360-degree listening experience, transforming the Aviator cabin into a true concert hall for the road.
Revel Ultima 3D transforms the environment of the vehicle with custom speaker placements for Aviator, acoustically expanding the feeling of the cabin while offering an intimate and personalized listening experience from all around.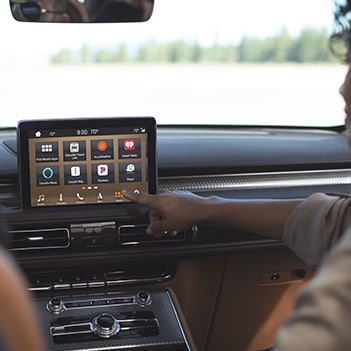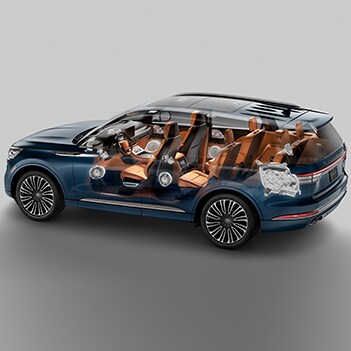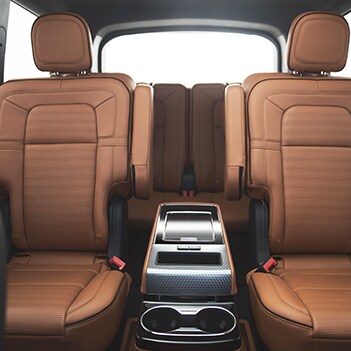 Hours
Monday

9am-8pm

Tuesday

9am-8pm

Wednesday

9am-8pm

Thursday

9am-8pm

Friday

9am-6pm

Saturday

9am-6pm

Sunday

Closed